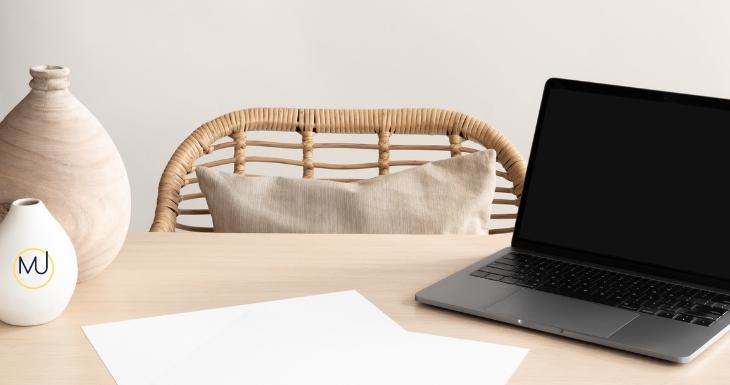 How to know what to create and why it matters, even if you've made mistakes before.
I want to share with you something alarming that I saw recently. It's pretty standard for me to be online, researching Facebook Ads, and the other day I came across an ad from a prominent coach who is an authority in their space who was using the ad to present a Q&A. Great idea, at first glance.
Someone asked what they should put into their lead magnet.
"It doesn't matter," said the coach. "The only thing that matters is how it looks."
The coach's attitude was that nobody actually looks inside lead magnets anyway, so there's no point worrying about the content.
Just make it pretty …
This is totally not true!
Sure, many people download a resource and forget to come back and use it.
But not all are like that.
And what about the people who actually wanted to use it?
This relates to a moment that many of us possibly experienced over the pandemic quarantine. We were all stuck in our homes but could have our favorite food delivered to us (by the way, I highly recommend always tipping your driver, they're working hard to get your food to us fast and are hustling out there!)
It all reminds me of the time I ordered my favorite salad bowl from a local eatery.
This salad has everything you need in a healthy and filling dish – protein, dark greens, crunchy, sweet, and salty too. This particular salad has about ten different tastes and textures that make me so happy. YUM.
I always order my salad dressing on the side – because there's nothing worse than a mushy salad, am I right?!
My order came to the door; I thanked (and tipped) the driver, grabbed a fork ready to dive in, and then…
The salad dressing was missing! OH NO!
The dressing is arguably the best part of the salad!
I felt so disappointed!
It's the same way with a lead magnet that looks great on the outside, with all the eye candy but missing the best part when you start to get into the content.
When you put out something like that, you're saying you haven't put in the effort your prospective customer deserves.
You certainly haven't put your best foot forward.
And it's going to come back and bite you in the you-know-where …
The competition's hotter than it used to be, and mediocre content gets left in the dust.
Your audience is savvy, and they expect only the best.
And the reaction you want from people after they use your free material is nothing less than "Wow! If this is free, imagine what their paid stuff is like!"
There's more to the problem …
We recommend you run Facebook ads to bring traffic to your lead magnet.
Of course, it's wise to run those to a cold audience, excluding people who have already taken up the offer, so that the ad is reaching new people all the time.
But an effective method of building social proof is to run the ad for a short while to people who did download the lead magnet because then people jump into the comments and tell everyone, "I downloaded this, and it's awesome!"
We then flip the same ad back to a cold audience, loaded up with all that goodness in the comments, to add weight to the offer.
Imagine if you sent ads for your lead magnet to people who had already downloaded it and found it to be a pile of you-know-what?
Build your authority by giving people quality at every step.
Ready to run an ad to your awesome lead magnet now? Download my Campaigns to Cultivate FREE mini-course, where I walk you through setting up your business manager account to create your first ad campaign HERE.
Okay, so I need to make a good lead magnet. What should I make?
Here are four things to think about when deciding what to make for your lead magnet:
Make sure it solves an immediate problem your prospective customer has
Make it quick to use, and have it provide a "quick win" for your prospects
Make it relevant to your niche so that the customer journey from solving this one small problem to the next problem is smooth.
Leave another problem at the end. So they've made progress, but then your prospect sees they should take the next step with you to achieve more.
These ideas are tried and tested, and they are based on the solid foundation of excellent customer service.
I've decided what problem I'll help people solve in my lead magnet. Now how do I make it?
First, look at the resources you already have – why not save time wherever you can? For example, is there a blog post or short course you can take a section out of that will answer one burning question your potential client has right now?
What about using the FAQs from your website?
Is there an expose on your industry you can uncover … those things people don't want your clients to know? Share information that helps them make smarter decisions or avoid a problem.
If you still don't know what to use, think about the one question people keep asking you about your niche and answer that.
As far as "the right format" goes, stick to the KISS principle. Make a video if that's what you love doing, or a short training module. Just as effective, a checklist or workbook provides a sense of accomplishment.
And yes, make your lead magnet look good!
The standards are high, and the competition's hot, so make sure your lead magnet catches your prospect's eye in the news feed.
It's not expensive to hire designers these days – check out Upwork or Fiverr to get started.
Top-quality design + top-quality content = a solid foundation for your Facebook list-building campaigns.
Over to you …
I'd love to hear about what lead magnets you are using and how the performance is going.
Do you have quality lead magnets in place to bring people onto your list, which have people who downloaded them giving your work endorsements in your ad comments?
Do you have questions about how to implement the strategies above that we use every day?
About Amanda Kuchlenz
Hi, I am Amanda Kuchlenz. I'm the Founder of MomentumUP Marketing, and I have helped my clients scale their businesses and 10x their return on ad spend with Facebook and Instagram Ads.
I've worked as a Social Media Manager and an In House Marketing Strategist before founding MomentumUp Marketing. The time I spent in "organic" Social Media and as an In-House Marketing Manager has been influential in developing our signature MomentumUp experience. I know firsthand the difference it makes to work one-on-one with a client to create a complete marketing campaign that gets results.
MomentumUp Marketing is a boutique Advertising Agency backed by some of the best Facebook Marketers in the world on our team. We've been behind the scenes working on 7-Figure Funnels and Campaigns for some of the most influential people and brands in the online marketing space. I love teaching and coaching others about Facebook Ads and funnels and have been a mentor to the students who participated in my online workshops and courses.
Our mission is to help ambitious coaches and digital course creators to leverage the power of social media advertising and scale their businesses. Expert knowledge and personal touch with every client helps them gain worldwide impact and realize increased sales with their expertise, products, and services.
Facebook has presented us with opportunities like never before to establish ourselves as the authority in our niche, now is the time to take advantage of it!
Find out more about how to scale your business with Facebook advertising HERE.